The 2023 Zhejiang Traditional Chinese Medicine Expo concluded successfully on November 12 in Pan'an County, Jinhua City, Zhejiang Province. Having been successfully held for 15 times, the Pan'an Traditional Chinese Medicine Expo has formed a development pattern that focuses on the exhibition and sales of medicinal materials, supplemented by investment promotion, and with summits and forums as the main activities.
The exhibition is divided into two exhibition areas. The traditional Chinese medicine machinery and equipment exhibition and sales area is arranged in the original drug trading market, with a total of 32 booths. The exhibition scope is Chinese medicine machinery and equipment companies such as Chinese herbal medicine processing machinery, slice processing equipment, and warehouse storage facilities. In the traditional Chinese medicine and health products exhibition area, a total of 33 specially designed booths and 128 standard booths are set up to focus on displaying regional brands of traditional Chinese medicinal materials from all over the province.
Nanjing 4D Intelligent Storage Equipment Co., Ltd., as one of the earliest companies in China to research 4D dense systems, is committed to solving the innovation, research, development and application of high-density storage logistics automation, informatization, and integration technologies for users, providing users with One-stop service from equipment development and design, production and manufacturing, project implementation, personnel training and after-sales service. The 4D intensive warehouse storage solution can strengthen drug quality control, ensure the procurement, storage, and distribution of raw materials, various excipients, internal and external packing materials, and final finished products, optimize the supply chain, and speed up the turnover of materials and drugs inside and outside the enterprise. Reduce human errors and increase productivity and customer satisfaction. Moreover, it can improve the utilization rate of warehousing space, improve the efficiency of inflow and outflow, and achieve cost reduction and efficiency improvement.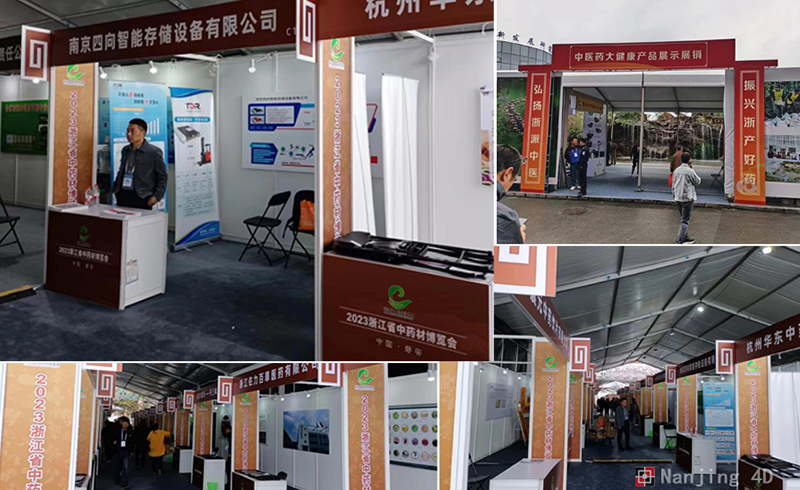 Nanjing 4D Intelligent actively participated in the Zhejiang Pharmaceutical Expo, demonstrating our company's brand image and technical strength to the audience, attracting the attention of many end customers and dealer friends. Over the years, our company has continued to develop steadily step by step, insisting on providing customers with high-quality products and good after-sales services, and establishing a good reputation in the industry.
It is believed that through this Zhejiang Medicinal Materials Expo, Nanjing 4D Intelligent Storage Equipment Co., Ltd. will further expand its corporate influence and provide more customers with increasingly optimized high-density warehousing automation, information, and intelligent system solutions to achieve mutual benefit and win-win results.
---
Post time: Nov-20-2023